This page is about food. In this page I will post links to delicious recipes, pictures of mouthwatering goodies and l
uxurious treats. Enjoy!
Chocolate orange cupcakes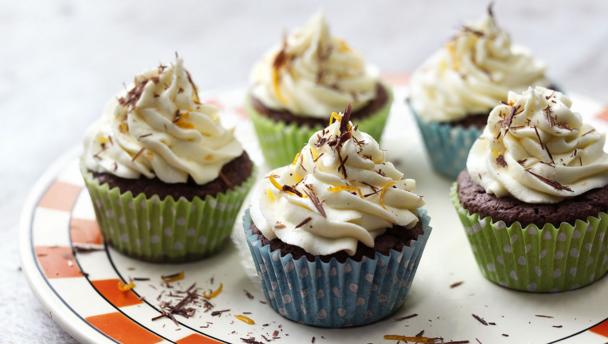 These are fairly simple to make and yet they look very professional-the perfect partner to a cup of tea!
Christmas brunch goodies
Chocolate log
Hey you guys! Today I did some cooking, and I made some: Homemade Vegetable Soup, cheese scones and an apple, pear and orange pie!
Here are the recipes with their photos. I hope that you like them :)
Homemade Vegetable Soup:
Ingredients: A knob of margarine
3 peeled and chopped apples.
3 peeled and diced potatoes
A few chopped leaves of cabbage
Method: Melt the butter in a hooded pan.
When the butter is melted, add the onions and stir until they are see-through and soft.
Add some water, the vegetables and seasoning, and bring it all to the boil.
When the soup is bubbling, turn down the heat and place the hood on the pan.
Leave to simmer for 20-30 minutes, and serve warm.
If you wish, you can liquidize the soup to create a deliciously smooth meal.
Cheese scones:
A pinch of salt and pepper
1/2 a teaspoon of baking powder
And a little water (to bind the dough if it gets too crumbly!)
Method: sieve the flour, salt and pepper and baking powder together and then rub in the butter, milk and margarine. Make sure the mixture isn't too sticky or crumbly, then roll it out onto a lightly floured surface. Using cookie cutters, make shapes out of the dough and place them onto a baking tray. I needed more than one, so I would recommend you use 2+. After the scones are placed evenly on a tray, pop them into the oven at 200C for 20-30 minutes, and then leave them to cool on a rack.
Apple, Orange and Pear Pie
3 small pears, peeled and sliced
2 large apples, peeled and sliced
1 orange, peeled and sliced*
2 oz of margarine or vegetable lard
A little water for the fruit
First of all, preheat the oven at 200C.
Then you should focus on the pastry.
To make shortcrust pastry, the one I use for pies, you must first get together your: flour, water and fat.
Then, you rub your margarine/lard into your flour. Be careful to make sure that the butter and flour are well mixed in.
Once you are sure your ingredients are well mixed, add your water, to bind it all together.
If the mixture is too sticky, add some flour. If it is too crumbly, add a little water.
roll the pastry into a ball, wrap it in cling film, and set it aside.
Now we must move onto the fruit. Some people prefer to have their fruit cooked a little before, others put theirs straight into the pie dish. I am going to show you the "cooked fruit" way.
First of all, take your prepared fruit and put it into a pan, along with some light brown sugar and water.
Let it simmer for a while, then take it off the heat and set it aside to cool (it's best to drain it later, to avoid burning yourself).
Once the fruit is cooled, take some oven gloves, and carry the pan carefully over to the sink. Take a spoon or fork, and drain off some of the liquid, being careful not to drain all of it.
Once you are finished draining, place the fruit evenly on the bottom of a round pie dish.
Roll out the pastry, trying to make it as round-shaped as possible, and lay it onto the fruit, being careful not to rip it. It should not be too thin, or it will burn. But if it is too thick, it will not cook well. I will leave this with you to decide the thickness!
Once your have done this, take a fork and make your way around the pie, pushing the fork's prongs gently into the edge.
Also prick a few holes in the middle.
To finish your delicious dessert, sprinkle caster sugar lightly on the top of the pie.
Place your cookery into the oven at 200C for 10 minutes, and once the 10 minutes are up, turn the heat down to 180C and cook for a further 20-30 minutes, or until the pie is nicely browned.
Some people (such as me!) like to have their pies slightly less well done than that. If you are like this, cook your pie until it is firm to touch on the top. But make sure that the pastry is fully cooked.
I hope you enjoyed my recipes! I invented the Homemade Vegetable Soup and the Apple, Pear and Orange Pie :)
Jemimah Xx
*
You may not wish to add the orange, but it adds a festive tangy taste to the pie. The choice is yours!